Matt Lorelli

Based on data recorded by the Palisades Tahoe App, nobody has skied the iconic ski resort more than Kent Bishop this season.
Bishop has accumulated over 3.2 million vertical feet of skiing over 144 days this season. That's nearly 700,000 vertical feet more than the next on the list!
Check out the video below:
We took a couple runs down KT-22 with our Palisades Tahoe App leader in vertical feet skied this season, Kent Bishop! Kent was skiing for his 140th full day this season; his 50th season here at Palisades Tahoe. pic.twitter.com/xnhV81BN1u

— Palisades Tahoe (@palisadestahoe) May 15, 2023
What a life Kent Bishop is living! I thought I had achieved my wildest dreams by scoring a job here at Powder Magazine, but now I have a new goal. I want to to ski as much as Bishop.
Let's break down Bishop's ridiculous stats. He's skied 144 days for a total of 3,273,768 vertical feet. That's averaging 22,734.5 feet of vertical per day.
Bishop says he spends 95% of his time on the KT-22 lift. The lift services about 1,800 feet of vertical. That means Bishop is taking about 12 or 13 laps per day down Moseleys, Chute 75, and/or West Face as he stated in the video.
That might not sound all that crazy for one day of skiing, but imagine doing that every consecutive day since January 4th! What a legend.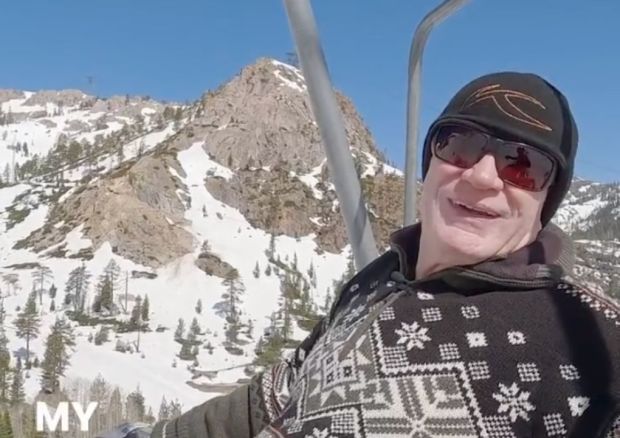 It has never snowed more at Palisades Tahoe this season, and nobody has skied that record-breaking snow more than Kent Bishop. That's pretty dang neat.
Shout out to Bishop for motivating all of the ski bums by giving them something to look forward to in retirement. He's truly an inspiration!
Bishop still has a little less than two months of skiing to pad his stats at Palisades Tahoe. The resort is planning to keep the Alpine side open on weekends through July 4th!
We can't wait see what his total vert is when the season is said and done.
Don't miss another headline from POWDER! Subscribe to our newsletter and stay connected with the latest happenings in the world of skiing.
We're always on the lookout for amusing, interesting and engaging ski-related videos to feature on our channels. Whether you're a professional or just an amateur, we want to see your best footage and help you share it with the world. Submit your video for a chance to be featured on POWDER and our social channels. Be sure to subscribe to our YouTube channel to watch high-quality ski videos.