Ian Greenwood

Anyone know that there's a ski resort near Las Vegas? Me neither.
It turns out the promise of gambling your savings away isn't the only Las Vegas has going for it. Lee Canyon, a resort only 50 miles north of the Strip, just announced that they're looking at their longest season yet due in part to record snowfall. Here are the details.
No offense to those who do, but I don't find Las Vegas particularly appealing, mainly because I'm terrified of getting hooked on slot machines.
But gambling on a torn ACL by making questionable decisions on skis? You son of a gun, I'm in.
I've got 20 or so years on snow without a split ligament, so I'm still up. Although part of me knows that if you bet against the house for long enough, you're probably gonna win — no, not a million dollars — I'm talking about the worst prize in the world, a blown knee.
Jokes aside, good on Lee Canyon for keeping the lights on a little longer. You can ski and ride their terrain until the end of this weekend on May 14th.
While I don't anticipate anyone making the trip down to Las Vegas just to ski Lee Canyon, if you happen to be in the area over the new few days for some fear and loathing, don't forget the sticks.
Lee Canyon Stats/Info:
Vertical: 2,779 ft. (including hiking access)
Skiable Terrain: 445 ac. (including hiking access)
Average Snowfall: 129 in.
Lifts: 3
Trails: 26
Snowmaking: YES
Night Skiing: NO
Mega-Pass: Power Pass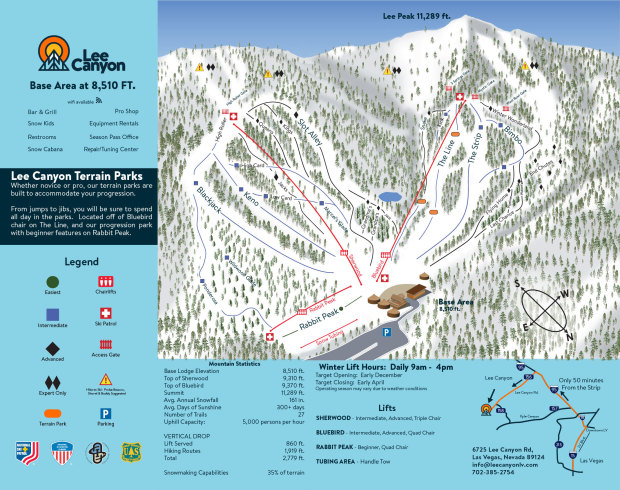 Don't miss another headline from POWDER! Subscribe to our newsletter and stay connected with the latest happenings in the world of skiing.
We're always on the lookout for amusing, interesting and engaging ski-related videos to feature on our channels. Whether you're a professional or just an amateur, we want to see your best footage and help you share it with the world. Submit your video for a chance to be featured on POWDER and our social channels. Be sure to subscribe to our YouTube channel to watch high-quality ski videos.