Ian Greenwood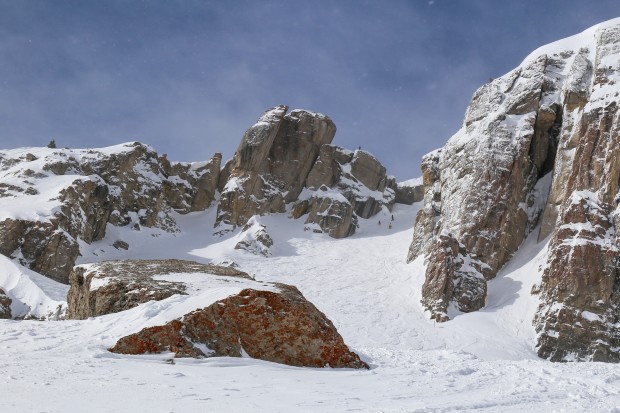 Corbet's Couloir, a classic descent at Jackson Hole Mountain Resort, Wyoming, giveth and taketh.
There are two outcomes when you tee up the imposing headwall: you earn the official title of "Corbet's Survivor" or crash and slide the length of multiple football fields on your butt or stomach. This video involves the latter sort of outcome.
This was my first time seeing this video, and I gotta say, this might be the best GoPro wipeout video out there. I'd go as far as to say that it's a classic.
At first, I expected a quick fall, but this skier just kept going, and going, and going…
And this wasn't a casual five-mile-an-hour slide. This guy was cookin'. Hard to put a number on it from the video, but I'd bet he hit at least 35 miles per hour, which might seem slow in a car but feels blisteringly fast on snow.
Luckily, based on the video, it looks like he didn't suffer any major injuries. I love crash videos as much as the next guy, but when they involve someone actually getting hurt, they completely lose their charm. Goofy bails are a lot of fun. Pre-ER trip bails aren't.
For the minority of viewers who watched this and thought, "Wow, I want to try that run and hopefully not fall 400 yards," you'll, unfortunately, need to wait until next year. Despite a killer season, Jackson Hole Mountain Resort has closed up shop for the winter.
Don't miss another headline from POWDER! Subscribe to our newsletter and stay connected with the latest happenings in the world of skiing.
We're always on the lookout for amusing, interesting and engaging ski-related videos to feature on our channels. Whether you're a professional or just an amateur, we want to see your best footage and help you share it with the world. Submit your video for a chance to be featured on POWDER and our social channels. Be sure to subscribe to our YouTube channel to watch high-quality ski videos.