Ian Greenwood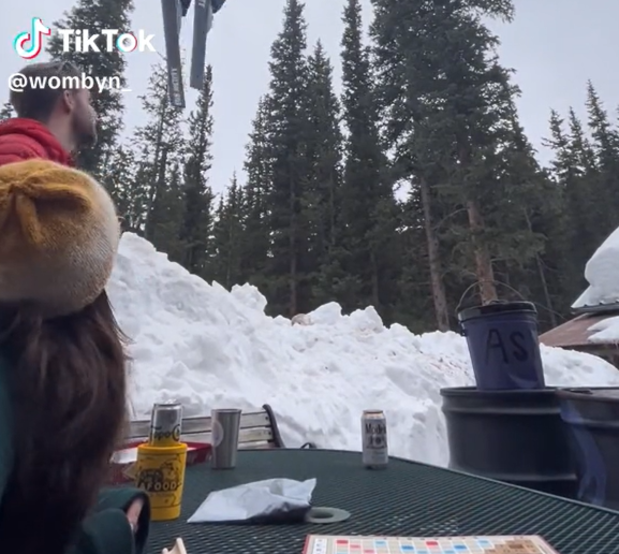 Ever been enjoying a pleasant game of Scrabble only to have a skier fly overhead?
Yeah, me neither. But just because we haven't witnessed the classic "Scrabble gap" (okay, it's not classic. I just made that up), that doesn't mean it's not real. Here's proof.
Was it a slow news day today? Maybe.
Should I be writing about something more impactful? Also maybe.
That's the thing about skiing news, though: it boils down to one of a few categories, like crazy tricks or new resort developments. And pros and skilled amateurs aren't constantly throwing crazy tricks, nor are resorts always planning to build new lifts. When nothing particularly newsworthy's going on, you end up with "Scrabble gap" videos.
There seems like an obvious solution here. Maybe I should buy a GoPro and film myself doing something incredibly stupid that I'll later write about. No matter that there's barely any snow on the ground where I'm at. "Washed-Up Skier Attempts To Straightline Escalator And Fails Spectacularly" sounds pretty clickable to me.
I should probably start looking for the gnarliest escalator lines in town. I might want to invest in some body armor, too. Eating snow during a crash is one thing, but getting a face full of aluminum staircase? That's a different ball game.
Silliness aside, I'm honestly a fan of the "Scrabble gap" video. What's skiing without a bit of wackiness?
Plus, and I might be wrong here, I think this is the world's first "Scrabble gap." That's worth something in my book.
Don't miss another headline from POWDER! Subscribe to our newsletter and stay connected with the latest happenings in the world of skiing.
We're always on the lookout for amusing, interesting and engaging ski-related videos to feature on our channels. Whether you're a professional or just an amateur, we want to see your best footage and help you share it with the world. Submit your video for a chance to be featured on POWDER and our social channels. Be sure to subscribe to our YouTube channel to watch high-quality ski videos.